Home Page for the 2013 CISE NSF REU Site PI Meeting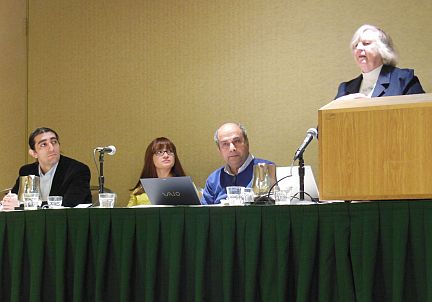 MEETING WRAP UP!
Thanks to everyone who came to the PI meeting, and to those who helped make the meeting happen. It was a great success and we look forward to continued success of the CISE REU program!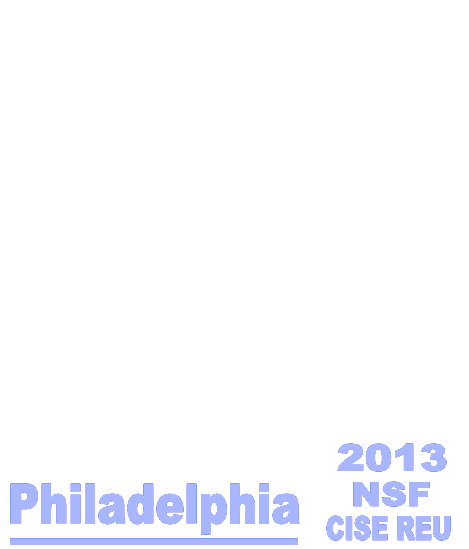 Welcome to the 2013 Meeting, PIs!
The 2013 CISE REU PI meeting will be held Thursday March 14 and Friday March 15 at the Philadelphia Marriott Downtown, located on Market and 13th Streets two blocks from City Hall. For more information, please click on our Hotel & Travel page.
The meeting begins with breakfast on Thursday, followed by either the annual New PI Workshop or "unstructured" morning time for returning PIs. General sessions begin at 10:30 with welcoming remarks and introductions, and continue to Friday evening, followed by an optional dinner at City Tavern, a nearby landmark restaurant.
Meeting registration and hotel registration & travel information should be submitted by February 15, 2013.
Highlight Contest
Be sure to send your REU Site Highlights by January 20, 2013. The template is available here. To submit highlights, or if you have any questions, email John Zacharias at jzachari@nsf.gov.
CISE REU PI Information
There is much information about past meetings at the CISE REU PI website, especially its Wiki page.
This year's meeting is brought to you by the 2013 organizing committee!
DIMACS/Rutgers, 2013 Chair

Bidisha Nag

DIMACS/Rutgers, 2013 Program Coordinator
UC Santa Cruz, 2012 Chair
UT-Dallas, 2013 New PI Workshop and 2014 Chair
Temple University, Committee Member
Drexel University, Committee Member
Please direct logistical questions to Bidisha Nag (732-445-0074), questions about the new PI workshop to Eric Wong, and program questions to Eugene Fiorini.
The 2013 CISE REU PI Meeting is made possible by the support of the National Science Foundation as part of grant number 1004956. Any opinions, findings, and conclusions or recommendations expressed in this material are those of the author(s) and do not necessarily reflect the views of the National Science Foundation.